You are here
Back to top
Fashionopolis: Why What We Wear Matters (Paperback)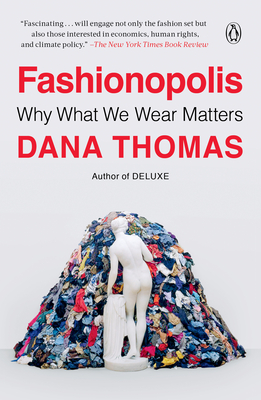 Description
---
*NYTBR Paperback Row Selection * The Independent's Best Fashion Book on Sustainability*

An investigation into the damage wrought by the colossal clothing industry and the grassroots, high-tech, international movement fighting to reform it

What should I wear? It's one of the fundamental questions we ask ourselves every day. More than ever, we are told it should be something new. Today, the clothing industry churns out 80 billion garments a year and employs every sixth person on Earth. Historically, the apparel trade has exploited labor, the environment, and intellectual property—and in the last three decades, with the simultaneous unfurling of fast fashion, globalization, and the tech revolution, those abuses have multiplied exponentially, primarily out of view. We are in dire need of an entirely new human-scale model. Bestselling journalist Dana Thomas has traveled the globe to discover the visionary designers and companies who are propelling the industry toward that more positive future by reclaiming traditional craft and launching cutting-edge sustainable technologies to produce better fashion.
 
In Fashionopolis, Thomas sees renewal in a host of developments, including printing 3-D clothes, clean denim processing, smart manufacturing, hyperlocalism, fabric recycling—even lab-grown materials. From small-town makers and Silicon Valley whizzes to such household names as Stella McCartney, Levi's, and Rent the Runway, Thomas highlights the companies big and small that are leading the crusade.
 
We all have been casual about our clothes. It's time to get dressed with intention. Fashionopolis is the first comprehensive look at how to start.
About the Author
---
Dana Thomas is the author of Fashionopolis: The Price of Fast Fashion and the Future of Clothes, Fashionopolis Young Readers Edition, Gods and Kings: The Rise and Fall of Alexander McQueen and John Galliano and the New York Times bestseller Deluxe: How Luxury Lost Its Luster, all published by Penguin Press. She is the European Sustainability Editor for British Vogue, a regular contributor to the New York Times, and hosts "The Green Dream," a weekly podcast on sustainability, produced by Wondercast.Studio. She wrote the screenplay for Salvatore: Shoemaker of Dreams, a feature documentary directed by Luca Guadagnino, which premiered at the Venice Film Festival in 2020.
 
Thomas began her career writing for the Style section of The Washington Post, and for fifteen years she served as a cultural and fashion correspondent for Newsweek in Paris. Thomas has written for The New York Times Magazine, The New Yorker, The Wall Street Journal, the Financial Times, Vogue, Harper's Bazaar, T: The New York Times Style Magazine, and Architectural Digest. In 1987, she received the Sigma Delta Chi Foundation's Ellis Haller Award for Outstanding Achievement in Journalism. In 2016, the French Minister of Culture named Thomas a Chevalier of the Order of Arts and Letters. And in 2017, she was a Logan Nonfiction Fellow at the Carey Institute for Global Good. She lives in Paris.
Praise For…
---
"A glimpse into how consumerism, slowed to a less ferocious pace, might be reconciled with sustainability."—The New Yorker

"[A] Marley's Ghost-style warning of the irrevocable destructions to come . . . Thomas is engaging and vital." — New York Review of Books

"If you've been paying any sort of attention, you know that fashion is a dirty business. Human rights abuses, environmental devastation, economic devastation—these are just the broad strokes of a deeply broken system. And Fashionopolis seeks to pull the curtain back on that system. But it also wants to show us a way out." —Esquire

"A fascinating account [. . .] Dana Thomas, a veteran style writer, convincingly connects our fast-fashion wardrobes to global economic and climate patterns and crises [. . .] Among the book's delights are Thomas's sketches of her individual subjects […] Thomas displays her skills as a culture and style reporter as she visits the visionaries who are attempting to remake the industry, if not from whole cloth, then maybe from lab-grown or recycled fibers of some kind. […] Thomas has succeeded in calling attention to the major problems in the $2.4-trillion-a-year industry, in a way that will engage not only the fashion set but also those interested in economics, human rights and climate policy." —New York Times Book Review 
 
"[A] snappy, clear-minded attack on the fashion industry's rampant labor and environmental abuses. . . [Fast fashion] has decimated labor in developed countries, human rights in developing countries, and environmental quality across the globe — and Thomas asks readers to resist it however we can." — NPR Books
 
"Fashionopolis is an eye-opening foray into the environmental impact of fast fashion — and it'll cause you to think twice before buying that Zara dress. Dana Thomas also explores the future of fashion with a number of eco-friendly developments." —Refinery 29

"Dana Thomas's Fashionopolis takes readers through the dark history of the clothing industry, offering a detailed accounting of exactly what goes into the production of the 80 billion garments that are produced, purchased, discarded, and repurchased each year."—Science

"Thomas provides glimpses of change in the industry, describing, for example, energetic start-ups producing organic cotton socks and developing fertilizer-free dye techniques… [She is] on the front line of this movement, encouraging innovation for our long-term future."—Times Literary Supplement
 
"Thomas, a Paris-based fashion journalist, takes a story most of us think we know, but tells it better and in compelling, readable detail…Thomas's long view is thought-provoking. Fashion may be faster than ever, but, she makes clear, from the first moments of industrialization it has played fast and loose with its workers and the environment…[Fashionopolis] engagingly elucidates how we may change things."—The Times (UK)
 
"A pleasurable read on the innovators and entrepreneurs trying to make clothes with less cruelty and filth…The book has implications beyond cloth and thread…eye-opening."—Financial Times

"Thoroughgoing and invigorating . . . [Thomas] approaches Fashionopolis as both an intrepid investigative reporter and an aesthete . . . This trenchant look at how clothes are produced today is both an environmentalist cri de coeur and an homage to good design." —Shelf Awareness  

"Journalist Thomas offers a wide-ranging exposé of the fashion industry…[and] shows us sustainable alternatives for the future. Fascinating reading for anyone who wears clothing."—Library Journal

"An educated update on the current state of fashion, how it got there, and a prognostication on its precarious future . . . Thomas offers informed, fair-minded, passionate, and cautiously optimistic scrutiny of "fast fashion". . . Convincing, responsible, and motivational fashion industry reportage." —Kirkus Reviews

"A great resource for learning about the effects of fast fashion."—Reader's Digest

"In this informative volume, fashion journalist Thomas convincingly lays out multiple arguments against fast fashion . . . Thoroughly reported and persuasively written, [Thomas's] clarion call for more responsible practices in fashion will speak to both industry professionals and socially conscious consumers." — Publishers Weekly 

"Fast fashion and its long-term consequences are such crucial subjects that it's hard to believe that no one thought to write this book until now. And how lucky we are that it's Dana Thomas who finally did, bringing her encyclopedic knowledge and expertly-trained eye to bear on the excesses of a system by which companies exploit people and the planet to produce clothes that we barely wear. Investigating the factory floor to runway in search of a better way forward, Thomas makes an unshakeable argument for a different way of getting dressed."—Lauren Collins, author of When In French
 
"Dana Thomas's Fashionopolis is blunt: We're all going to drown in a landfill piled high with cheap clothes if we don't stop shopping like maniacs. Thomas's thoughtful reporting explains how we arrived at this environmental crisis and she never lets us forget the human suffering that comes from our seemingly insatiable appetite for frocks. But her reporting also gives us a spark of hope for the future: It just may be possible to have good fashion that doesn't destroy the planet."—Robin Givhan, author of The Battle of Versailles

"Fashionopolis is an eye-opening account of the true cost of "fast fashion"—from environmental degradation to inhumane labor practices. Dana Thomas circles the globe to profile innovators who are working to make the garment trade more sustainable and offers a vision of better, rather than, faster fashion. What should I wear?" Thomas poses this powerful question and I, for one, will never open my closet and look at my choices in quite the same way again."—Julia Flynn Siler, author of The White Devil's Daughters

"In Fashionopolis, Dana Thomas offers a bracing, urgently important look at the ills fast fashion has wrought—from design theft to corporate corruption, inhumane labor practices to incalculable environmental damage. At the same time, Thomas reports on innovative designers, entrepreneurs, and companies working to counter these trends, making the garment industry fairer and more sustainable. This eye-opening book is a must-read not only for fashion junkies but for everyone who buys and wears clothes, enlightening us as to the garment industry's dark past, its embattled present, and—if we make the thoughtful choices Thomas presents—its bright future."—Caroline Weber, author of Proust's Duchess