You are here
Back to top
People You've Been Before (Paperback)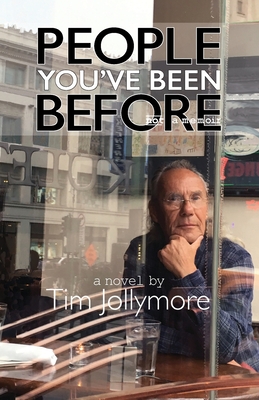 $18.50
Usually Ships in 1-5 Days
Description
---
"A story full of insight to the social feeling, antisocial behaviors, and internal torments of the alcoholic life. Told with humor, irony, and depth of feeling." Not to be overlooked.
*
People You've Been Before is a fierce and shattering portrait of a couple's 40-year relationship from marriage through divorce and its aftermath.
Tim Jollymore's ambitious book is a day in a life--or better a life in one day--of novelist Els Mattila who has just completed a new work of fiction. Yet his visiting ex-wife charges that he's simply written a memoir which painfully exposes the addiction, abuse, and betrayals of their relationship.
Their galvanizing encounter starts in Els' Manhattan apartment as the couple grapples with their complex and tragic history: a journey from Minnesota to Oakland and Hollywood, California, into a recovery program, and on to New York City. Yet at every turn, the reader must decide who is telling the truth.
Wonderfully written and full of profound observations about life, the purpose of fiction, and the power of redemption, People You've Been Before is a beautiful and haunting novel.
*
When a novelist tells the story of an author writing another man's tale, whose story is it?
Meet Els Mattila, an aging novelist who just spent three hundred days staring out the back window of his Manhattan, West Village apartment--writing. What came of those days?
According to Els his finished manuscript is a work of fiction, but his visiting ex-wife calls it memoir. Even Els admits--but only to the reader--that he wrote it "from memory."
People You've Been Before is the story of a couple's day-long encounter colored by forty years of marriage, divorce, and tragedy--exploring questions of who we are today and who we were all the days before.
The visit begins a morning in New York City and takes the couple, by late afternoon, through Minnesota, Northern California, and on to Hollywood as Els recounts his hell-and-back journey into--and out of--a recovery program that saved one of two lives.
What in addiction-recovery circles is named denial is called politic in public office, and either saving face or betrayal in marriage, depending on who's talking. In the world of the writer, lies make fiction, but if the writer doesn't know truth, fiction becomes a lie.
Who has the real story?
*
Elmoe Mattila built his success on the back of his alcoholic, Vietnam-vet friend, Tom. Now an acclaimed New York writer, Els confronts the tragedy of his friend, of his own life, and of his ex-wife, reviewing his "fictional" non-memoir with Raci whom he'd divorced twenty years back.
During an encounter lasting less than 18 hours, Raci alternately adores and abuses her ex over the "fiction,"his novel TWELVE, he has written from memory, using his group of recovering alcoholics of years past to explain how, despite the odds, he stayed sober even though he couldn't stay married.
During that day, during the action of TWELVE, Els reveals human hearts and lives both sordid and sad while telling the story of his "savior," Burt and his benefactor, Tom, and the people who touched his own and each other's lives. Will Els learn the reason he has survived the trials of addiction where so many others could not? Will he come to know, really, where his heart belongs?