You are here
Back to top
Marijuana Harvest: How to Maximize Quality and Yield in Your Cannabis Garden (Paperback)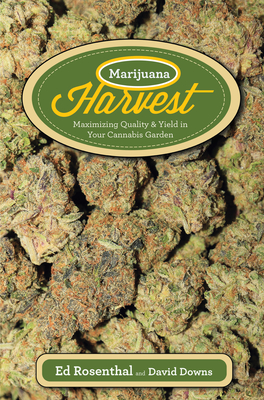 $24.95
Usually Ships in 1-5 Days
Description
---
Marijuana Harvest is the first book devoted entirely to cannabis harvesting. In it, Ed Rosenthal and David Downs explain how to ensure the perfect harvest--everything from recognizing when it's time to pick, to storage tech-niques to keep your buds fresh. Ed Rosenthal literally wrote the book on marijuana cultivation with his best-sellingMarijuana Grower's Handbook. Marijuana Harvestis the most important cultivation tool of the season. Readers will learn about:
Flushing: How and when to flush. Ripening: The best time to pick. Manicuring and Processing: Speed it up with new tools for both hand and machine trimming . Drying and Curing: How to avoid mildew and mold contamination. Storing: Keeping your buds fresh and potent.
Today, more Americans than ever before have the ability to grow and cultivate marijuana for medical and personal use. Marijuana Harvest teaches cultivators large and small, how to avoid making costly mistakes, identify problems.
About the Author
---
Ed Rosenthal is the world's leading expert on the cultivation of marijuana. In his more than 40 years as the "guru of ganja," he has written and edited more than a dozen books about marijuana cultivation and social policy that cumulatively have sold over two million copies. His "Ask Ed" marijuana advice column ran in High Times for several decades and still appears internationally. Beyond the garden, Rosenthal views marijuana law as a crucial social issue and has been active in promoting and developing policies of civil regulation. He lives in Oakland, CA. David Downs is an award-winning journalist covering arts, technology, and criminal justice for publications including WIRED, Rolling Stone, The Onion, and The New York Times. Downs was a fellow at Northwestern University's Academy for Alternative Journalism in 2004, and he earned a degree in English literature from University of California at Santa Barbara in 2002. He has received and shared numerous professional honors, including a 2010 Knight-Batten Award for Innovations in Journalism. He produces and hosts the podcast The Hash. He lives in San Francisco with his wife and son.