You are here
Back to top
The Book of Dust: La Belle Sauvage (Book of Dust, Volume 1) (Large Print / Paperback)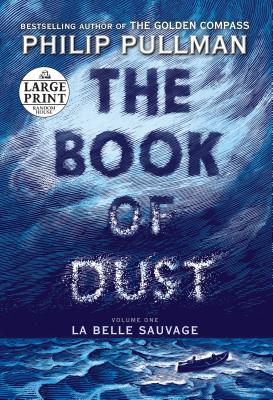 $25.00
Description
---
"The book is full of wonder. . . . Truly thrilling." --The New York Times

More than twenty years after the publication of the groundbreaking The Golden Compass, Philip Pullman returns to that parallel world to expand on the story of Lyra, "one of fantasy's most indelible characters." (The New York Times Magazine)

Don't miss Volume II of The Book of Dust: The Secret Commonwealth—coming October 3!

Malcolm Polstead is the kind of boy who notices everything but is not much noticed himself. And so perhaps it was inevitable that he would become a spy....

Malcolm's parents run an inn called the Trout, on the banks of the river Thames, and all of Oxford passes through its doors. Malcolm and his daemon, Asta, routinely overhear news and gossip, and the occasional scandal, but during a winter of unceasing rain, Malcolm catches wind of something new: intrigue.

He finds a secret message inquiring about a dangerous substance called Dust--and the spy it was intended for finds him.

When she asks Malcolm to keep his eyes open, he sees suspicious characters everywhere: the explorer Lord Asriel, clearly on the run; enforcement agents from the Magisterium; a gyptian named Coram with warnings just for Malcolm; and a beautiful woman with an evil monkey for a daemon. All are asking about the same thing: a girl--just a baby--named Lyra.

Lyra is the kind of person who draws people in like magnets. And Malcolm will brave any danger, and make shocking sacrifices, to bring her safely through the storm.

"Too few things in our world are worth a seventeen year wait: The Book of Dust is one of them." --The Washington Post

"People will love the first volume of Philip Pullman's new trilogy with the same helpless vehemence that stole over them when The Golden Compass came out." --Slate
About the Author
---
Philip Pullman
 was born in Norwich, England, in 1946. He attended Exeter College and later taught at Westminster College, Oxford, the setting for several of his books. He is the acclaimed author of the His Dark Materials trilogy: 
The Golden Compass, The Subtle Knife,
and 
The Amber Spyglass.
 His other books for children and young adults include 
Count Karlstein
 and a trilogy of Victorian thrillers featuring Sally Lockhart.
 The Golden Compass
, the first of Pullman's His Dark Materials
trilogy, won the Carnegie Medal and the Guardian Fiction Prize.
Pullman was named one of the "50 Greatest British Writers Since 1945" by the London Times, and a BBC poll listed him as the "11th Most Influential person in British Culture." Multiple stage and screen adaptations of his books have appeared, including a film of The Golden Compass starring Nicole Kidman, Ian McKellan, and Daniel Craig.  A companion trilogy, entitled The Book of Dust, is being published in October 2017.